Arms and Legs
For many people, losing weight is only the first step in the pursuit of the ideal figure. Sometimes (especially among those whose skin has been deprived of its elasticity by age or excessive stretching) the hanging flesh that remains isn't exactly what the person who invested so much time and work into getting in shape had in mind. Thankfully, cosmetic surgery can often accomplish what nature alone cannot. Dr. Mark E. Richards understands the needs and dreams of those who would like to be free from not only the fat deposits that settle around the arms and thighs, but also the loose, excess skin that surrounds them. That understanding allows him to offer superior thigh and arm lift (brachioplasty) treatments to his clients throughout the entire nation. Please take a moment to read about how the innovative techniques Dr. Richards has developed at the Ageless Impressions Plastic Surgery Institute, including the minimal incision arm lift, have revolutionized the field of arm lift surgery.

Learn More About This Procedure
View our online video library to watch Dr. Richards describe his techniques.
Video Library
Minimal Incision Arm Lift (Brachioplasty)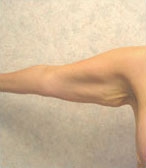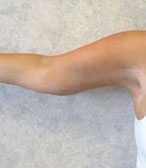 Before
After
View Gallery
"Bat wing" deformity, in which loose skin and fat deposits cause the upper part of the arm to appear saggy and oversized, can ruin an otherwise shapely figure. Oftentimes, traditional weight loss alone cannot stop the sagging, but there is hope. In conjunction with liposuction, an arm lift can often solve the problem, and thanks to the progressive vision of Maryland cosmetic surgeon Dr. Mark E. Richards, the surgery can be performed with very minor scarring that can often be easily hidden.
The fantastic results that Dr. Richards achieves with his arm lift techniques attract patients from all over the country. Prior to his work, which was documented as a lead article of the August/September 2001 Aesthetic Surgery Journal, arm lift surgery (brachioplasty) was accomplished by removing excess skin along a lengthy incision all the way from the armpit to the elbow along the length of the arm. Like the full breast lift, this procedure resulted in significant scarring, even when fully healed. Dr. Richards, though, has perfected a method in which a much smaller incision is made at the armpit. The excess skin is then pulled up, similar to pulling on panty hose, and removed. After the cut has been sewn up, the remaining skin is tight, smooth, and as young-looking as ever. This innovative minimal incision arm lift technique largely eliminates the flab vs. scarring tradeoff, and has delighted patients from across the nation who want to experience the benefits of an arm lift without the usual drawbacks.
Of course, patients should be aware that even this great improvement on the old arm lift method involves some recovery time, during which the patient will need to break from work and some activities. The remaining arm skin must be allowed to bond to the underlying tissue as it heals; thus, arm movement will be restricted for a few weeks after the procedure is performed. Special garments and compressing bandages will also need to be worn to facilitate this process. Discomfort, swelling, and bruising are normal to some extent after an arm lift, though there are medications that can alleviate these symptoms. Once these hurdles have passed, though, arm lift patients will have a lifetime to show off their new figures. If you are interested in taking off your "bat wings" forever, contact us to schedule an arm lift consultation with Dr. Mark E. Richards. You may also learn more about brachioplasty by viewing Dr. Richards' discussion of the procedure in the video gallery.
Thigh Lift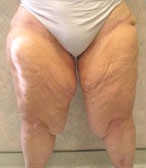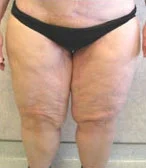 Before
After
View Gallery
Just as arms can collect fat and develop loose skin, so can legs. For this reason, a thigh lift (sometimes called a "thighplasty") is often used to return the legs to their youthful slimness and tightness. Frequently included as part of an extended tummy tuck or in the regimen of plastic surgery procedures suggested after weight loss, the thigh lift works according to principles similar to other skin-tightening procedures. An incision is made in the skin of the thigh, the excess is pulled tight and removed, and the remaining skin is sewn back together and allowed to heal. The exact placement of the incisions and the amount of skin will depend on the needs of the individual client, and will in turn influence the amount of scar tissue that results from the thigh lift treatment. Dr. Richards offers his years of experience to help those who come to him make informed decisions about how extensive a surgery to seek.
As with any other cosmetic surgery procedure, prospective thigh lift patients should plan to take some time off from work and daily routine. Manageable discomfort, bruising, and swelling are to be expected, but should not detract from the wonderful results available for those who choose this surgery and the other treatments that often complement it, such as cheek lift and chin liposuction.
Schedule Your Consultation
Those interested in a thigh or minimal incision arm lift (brachioplasty) from a premier cosmetic surgeon should contact the Ageless Impressions Plastic Surgery Institute today. We also encourage you to contact us for further information on any procedures you are interested in that you do not see discussed on this site.