Tummy Tuck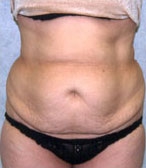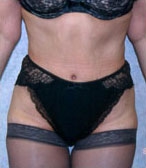 Before
After
View Gallery
Central to the body, the "abs" are also central to how we look. Many people work hard to build muscle tone and mass in the upper body, legs, and even stomach, yet remain unsatisfied with their figures due to persistent fat pockets and excess skin. In these cases, a tummy tuck surgery may be the answer. At Ageless Impressions – Plastic Surgery Institute, Dr. Mark E. Richards performs this procedure (also called "abdominoplasty") for patients from around the world who can't eliminate that bulging, saggy appearance with diet and exercise alone. This surgery, either by itself or as part of a regimen including thigh lift, liposuction, or breast enhancement, can help give you the trim, fit body you've always wanted. Read below to learn more about the possibilities with a tummy tuck procedure.

Learn More About This Procedure
View our online video library to watch Dr. Richards describe his techniques.
Video Library
Also On This Page:
*Individual Results May Vary
Causes of Abdominal Stretching
Contrary to what one often hears, the accumulation of abdominal fat and the loosening of stomach skin are not always caused by overeating. In women, pregnancy often leaves the abdomen looking loose and flabby, as the expanding womb stretches the stomach's muscle wall and outer skin. Women who have gone through multiple pregnancies are especially prone to experiencing this phenomenon, and in some cases a tummy tuck may be the only way to restore the figure to its original, youthful form.
Of course, massive weight loss can also necessitate a tummy tuck in order to remove the so-called "apron" of skin that remains when the underlying fat mass is gone. In fact, the tummy tuck is a popular component of the body lifts performed in plastic surgery after weight loss. Age can also harm the stomach's appearance, just as it can any other part of the body, robbing the skin of elasticity and resulting in a saggy and unfit appearance. Genetic factors can leave a person more vulnerable to this gradual degradation as well.
Those interested in a tummy tuck procedure are encouraged to contact us today to schedule a consultation with Dr. Richards. He and his professional staff can help you identify the cause or causes of your condition and design a solution to address it.
Tummy tuck surgery can be performed in more than one way. The best abdominoplasty method for each individual depends on a number of factors, including the volume of fat present, its position, and the condition of the underlying abdominal muscles. In many cases, other procedures may be recommended along with the tummy tuck, such as liposuction or breast augmentation, in order to achieve optimal results. From his years of offering high quality tummy tuck procedures, Dr. Richards has developed the expertise necessary to recommend the ideal procedure for your individual case. Read below to learn a bit about the various options.
Complete Tummy Tuck
A complete tummy tuck seeks to rework the entire abdominal area by removing excess skin and fat and strengthening the stomach muscles. In the procedure, the cosmetic surgeon will make an incision just above the pubic area from one hip to the other. The navel will be removed from its surrounding skin via another incision. The doctor then separates the stomach skin from the muscles below and uses sutures to tighten and strengthen them. Any fat deposits to be removed are taken out. Next, a new hole is made for the navel, and the skin is pulled tighter and reattached at the bottom. All told, the complete surgery takes two to five hours. When performed simultaneously with work on the thighs or the flanks, the complete tummy tuck is called an extended tummy tuck.
Partial Tummy Tuck
In some cases, a partial tummy tuck may be preferable to a complete one. It takes less time, produces less scarring, and costs less money. The procedure involves a smaller incision across the lower part of the stomach and leaves the navel in place. The partial tummy tuck becomes feasible when the excess skin and fat are concentrated below the navel.
For either type of tummy tuck, the patient must plan to deal with the aftereffects. Some bruising and discomfort are normal, and healing may take a month or more. At least some of that time will likely need to be taken off from work as your body recovers from the tummy tuck. Dr. Richards' office is well equipped and staffed to help you recover in the time immediately following your operation and beyond. If you think you may be a good candidate for a tummy tuck, please contact him today to schedule a face-to-face consultation.
Frequently Asked Questions (FAQs) About Tummy Tuck Surgery
To help patients find the information they need about a procedure they are considering, Dr. Richards has provided a quick resource on tummy tuck surgery. He has answered some of the most commonly asked questions below. If you have additional inquiries, or if you are ready to schedule a consultation, please contact our practice.
Who is a good candidate for tummy tuck surgery?
If you are bothered by excess skin on your abdomen, tummy tuck surgery may be right for you. You should also be in good general health and have reasonable expectations for the result, which Dr. Richards will go over during your initial consultation. Some other common concerns patients may have that can be addressed with this technique are loose abdominal muscles and pockets of unwanted fat. While many women who have given birth use this treatment to help restore their bodies to their pre-pregnancy shape—known as the mommy makeover—tummy tuck surgery is also helpful for men and women who have lost significant amounts of weight and found that their skin did not shrink back smoothly. If you're uncertain about whether abdominoplasty or another method is right for you, Dr. Richards will review your options and guide you towards the one that offers you the optimal outcome.
What are the benefits of tummy tuck surgery?
Tummy tuck surgery can achieve several goals, including:
Reduced skin laxity
Smoother, flatter abdomen
Firmer abdominal muscles
A more sculpted waistline
Depending on your unique treatment plan, other benefits also may be possible.
How much does tummy tuck surgery cost?
Dr. Richards customizes every treatment to suit the individual's characteristics and expressed goals. As a result, costs will vary from person to person. The price of tummy tuck surgery can range dramatically, especially if additional techniques are utilized. The American Society of Plastic Surgeons revealed the average fee for this surgery in 2016 was $5,798. This number represents the surgeon's fee, and it does not include fees for anesthesia, operating facilities, or other common expenses. During your first meeting, our medical team will go over the full expected cost of treatment so you can make the best decision for your needs and lifestyle.
What will the scars look like?
Many patients are understandably interested to know what the healed scars will look like, and Dr. Richards takes great care to place the incision in a location that offers the best result. In most cases, the incision is made low on the abdomen and can typically be covered by underwear, swimsuits, and other types of clothing. While this mark usually heals well, we also offer laser skin resurfacing to further minimize its appearance, if desired. Talk to us if you have any concerns about the outcome and we can help you find a suitable solution.
What is recovery for tummy tuck surgery like?
You should expect to take about two weeks off from work and your normal schedule to begin the healing process. Patients are also urged to avoid strenuous activity and exercise for at least four to six weeks, and adjustments may be made to this timeframe by Dr. Richards. Bruising and swelling are normal effects, and should fade with time. We will provide medication to help reduce discomfort during recovery. Your care, comfort, and results are our top priorities, and we welcome any questions you may have during your treatment or after.
For exceptional tummy tuck surgery, contact the Ageless Impressions – Plastic Surgery Institute today. Patients come from throughout the world to have Dr. Richards perform abdominoplasty and other plastic surgery procedures on them. Please feel free also to ask us any questions you may have about other procedures you do not see discussed on this site, or visit our video gallery to learn more about the Dr. Richards' approach to tummy tuck.