Breast Implants
For women who are considering breast augmentation, there are a variety of sizes, shapes, and types of breast implants to choose from. Our board-certified plastic surgeon, Dr. Mark Richards, offers a number of advanced breast implant options that can help you add volume to the breasts with beautiful, natural-looking results. During your initial breast augmentation consultation, Dr. Richards will talk with you about your ultimate goals, and help you determine the best options for your unique needs.
Breast Implant Options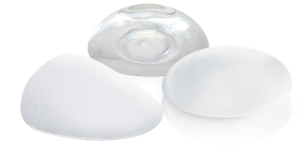 One of the most important decisions you'll make as part of your breast augmentation procedure involves your choice of breast implants. Fortunately, advances in plastic surgery and breast implant design have yielded a number of good options for an array of body types and aesthetic goals. Dr. Richards believes that adding volume to the breasts is just one aspect about breast augmentation – it's also about improving proportions of the breasts and creating results that enhance and complement your silhouette.
Breast implants come in round and teardrop shapes, as well as a broad range of sizes. They are also available in a number of different profile ranges – low, moderate, and high – to accommodate your goals regarding rate of projection. At your initial consultation, Dr. Richards will show you many different examples of breast implant sizes and shapes, and you can even hold some of them to feel the differences.
There are three main types of breast implants. They are:
Silicone Breast Implants
Silicone breast implants are made of a thick silicone gel encased by a silicone outer shell. They are known for their ability to create a very natural appearance and feel. Silicone implants are approved by the U.S. Food and Drug Administration for breast augmentation procedures in patients over the age of 22. They are approved for use in breast reconstruction procedures for patients of any age.
Gummy Bear Implants
Also called cohesive gel implants, gummy bear implants are one of the most exciting recent innovations in breast augmentation. Designed to provide the most natural looking and feeling results possible while also potentially enhancing the safety of breast enlargement surgery, gummy bear implants are distinctive due to the thickness of the silicone gel inside the shell, so that it is more like a warm "gummy bear" (even if cut in half). This cohesive gel retains it shape better than traditional implants, helping to reduce the risk of rippling. Studies have also shown that gummy bear implants may reduce the risk of capsular contracture (scar tissue formation leading to hardness) and implant leakage, even when placed above the muscle to avoid the deformation that occurs after sub-muscular implant placement when the chest muscles contract. As with other implant types, gummy bear implants are FDA-approved and come in a variety of heights, widths, and projections outward.
Saline Breast Implants
The most common type of implant used in breast augmentation, saline breast implants are composed of a saline (salt-water) solution encased by an outer shell made of silicone. These implants have been in use for decades, and have proven to be very effective for adding volume to the breasts with beautiful results. Saline breast implants are approved by the U.S. FDA for patients over the age of 18.
Dr. Richards will help you narrow down your choices of implant type, shape, and size during your consultation. He will also answer any questions you may have, and talk more with you about what you can expect from the entire breast augmentation treatment process.
Schedule Your Consultation
If you would like to learn more about your breast implant options, or if you would like to schedule a consultation with Dr. Richards to talk about your breast enhancement goals, please contact Ageless Impressions Plastic Surgery Institute today.