Facial Implants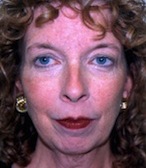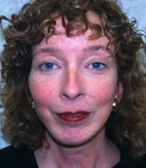 Before
After
View Gallery
When most people think of implants and cosmetic surgery, breast implants are the first option that comes to mind. Facial implants, though, can enhance the appearance just as dramatically when properly selected and applied. Available for a variety of different facial features, implants supplement the basic bone structure, enlarging and reshaping "weak" features so that remodeled skin and muscle will have a pleasingly constructed frame to adhere to.
Facial implants are desirable because they are long-lasting — they even allow the living bone to grow around them — and can often be inserted during other procedures, such as cheek lift, without requiring any additional sutures. The implants can be applied to the chin, cheeks, or jaw to correct features that have bothered patients their whole lives. When combined with other treatments like rhinoplasty, implants can improve the balance of the facial appearance with very attractive results.
*Individual Results May Vary
Chin Enhancement with Liposuction and Implants
Weakness in the chin prominence, which may be attractive in youth, is a detriment as we age. The neck muscles and skin are suspended from the jaw. The smaller the support, the more readily sagging tissues develop. Often, facial rejuvenation of those with weak chins will include a chin implant that extends along the sides of the jaw. The type of facial implants our extensively trained plastic surgeon, Dr. Mark Richards, uses incorporates into the bone giving a balanced, natural appearance that improves the appearance of neck line as well.
Chin implants are by far the most common facial implant, inserted with great success and satisfaction. Many individuals experience a lifetime of self-consciousness from having a recessed chin, prominent nose, or both. A weak chin can cause the features of the face to appear off balance. Chin implants can effectively re-proportion the face, restore harmony to facial features, and give balance to the lower jaw. They can be placed through a discreet incision made inside the mouth or under the chin. The entire procedure typically takes about an hour or less to complete.
Other facial implants are used to enhance specific areas of the face, such as the cheekbones, or to bring balance to the face by improving the size and shape of the jawline or chin. A number of different implants are available. Facial implants are often combined with other procedures. Chin implants are often used with rhinoplasty (nose surgery) to help balance the facial features. Cheek implants may be combined with facelift to help replace loss of facial volume and produce a more youthful appearance.
Cheek Implants, Fillers, and Fat Grafts
Whether it is lifelong facial narrowness or loss of facial contour due to the effects of aging, cheek volume can be improved with cheek implants. And with injectable fillers or fat grafts, Dr. Richards can give new definition and contour to facial features. If cheek implantation is performed in tandem with another facial surgery procedure, no additional incisions are usually needed. When placed on their own, the incision can often be hidden within the upper lip or in the lower eyelid.
Radiesse®
Radiesse® is one of the most innovative and effective dermal fillers available. Designed to fill in deep creases, wrinkles, and folds, Radiesse® is also adept at restoring facial volume and correcting facial lipoatrophy without the need for surgery.
Facial Implants Risks and Recovery
While fillers tend to cause minimal swelling that is mostly resolved in a day or two, normal recovery from facial implants involves some bruising and swelling. Surgical dressings may initially be used to compress the treatment area in an effort to reduce swelling. Eating habits and dental hygiene may need to be temporarily modified.
Facial implants are generally considered safe, but as with any surgery, complications can occur. Risks of facial implant surgery that may require a second procedure include an implant slipping out of place and a persistent infection. An adverse reaction to the anesthesia is also possible.
Frequently Asked Questions About Facial Implants
To assist our patients in finding the information they need to make the best cosmetic decision for their goals, Dr. Richards has answered some frequently asked questions (FAQs) about facial implants. If you have a specific inquiry not addressed here, or if you would like to discuss your plans with Dr. Richards, please contact our practice to schedule a consultation.
What can facial implants do?
Facial implants can do more than enhance the area they are placed, although that is part of the benefit. A chin or cheek implant can provide a subtle but noticeable improvement in facial proportions. In addition to overall enhancement, asymmetries can be corrected, operation time is often brief, and no other procedures are necessary to attain the results—although many patients opt to combine other techniques. Each type of implant offers different benefits, but they all are designed to augment the contour, proportion, and shape of the face.
What will the scars look like?
Your customized treatment plan will include details about where the implants will be placed and how they will be inserted. For chin implants, the incision is commonly placed on the underside of the chin or within the mouth where the gums and lower lip meet. These techniques limit the visibility of the scar, which may be completely unnoticeable depending on the approach. For cheek implants, Dr. Richards may go through the inside of the mouth or through another opening if this treatment is combined with another procedure, such as a facelift or rhinoplasty. Dr. Richards will talk to you about your options and which method is ideal for your needs and goals.
How much do facial implants cost?
The price of facial implants will vary based on several factors, including the type of implant, the complexity of your case, and whether you are combining other procedures and treatments in your plan. The national average cost for chin implant surgery is $2,269, as reported by the American Society for Aesthetic Plastic Surgery (ASAPS). This is not necessarily representative of our fees, and this number only takes into account the average surgeon's fee, it does not include the cost of anesthesia, implant surgery facility fee, and some other common expenses. We will provide you with a thorough breakdown of the costs associated with your individual treatment plan during your initial consultation.
Are facial implants permanent?
Implants are designed to remain in place for life, although if they need to be removed for any reason they often can be. If your implant surgery includes the use of dermal fillers or other cosmetic injectables, those treatments offer temporary improvement. Occasional maintenance injections can extend the benefits beyond the initial time period. Dr. Richards can further explain what to expect in the long-term during your initial meeting, and he can provide advice on how to make your results last as long as possible.
How long will recovery take?
Implant surgery is typically an outpatient operation, so you should be able to return home the same day. Once home, we encourage you to relax and take things easy for at least a week. Most patients can return to their typical daily schedule after approximately seven days, although your experience may vary. The first week you should try and keep your head elevated, including while you sleep. After 5 to 10 days, any non-dissolvable stitches will be removed. Dr. Richards will also discuss following a soft-food diet for the first week while you heal. Vigorous exercise and activity can typically be resumed after four to six weeks.
Dr. Richards can advise you if you are interested in facial implants. Learn more about the facial plastic surgery procedure by contacting us today.