Skintrinsiq™

Skintrinsiq™ is a unique new facial treatment option from the world-renowned Obagi skin care brand. This comprehensive facial utilizes an innovative four-step process designed to address a variety of different concerns. Skintrinsiq™ can be used to clarify, antioxidize, firm, and brighten the skin to reveal a more youthful and radiant complexion. By combining some of Obagi's most powerful skin care products with the application of blue and red light LED therapy, the Skintrinsiq™ procedure can improve an array of common conditions while helping the skin continue to replenish itself after the treatment. 
What Concerns Can Skintrinsiq™ Treat?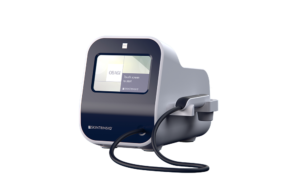 The Skintrinsiq™ system offers four major types of facial treatments, including the antioxidant facial, the clarifying facial, the brightening facial, and the firming facial. Each option utilizes specific Obagi products designed to improve corresponding concerns. Depending on the particular Skintrinsiq™ facial being performed, the treatment can address and improve: 
Signs of age such as wrinkles, fine lines, and loss of elasticity 
Dry or oily skin 
Sensitive skin 
Age spots, sun damage, and other signs of hyperpigmentation 
Acne 
Mild acne scars 
Melasma 
Uneven skin texture 
During your initial skin care consultation, our experienced Medical Esthetician can talk with you about your concerns and help you determine which specific type of Skintrinsiq™ facial may be the most ideal for your goals. 
What Happens During the Skintrinsiq™ Procedure? 
The Skintrinsiq™ facial involves four major components: 

Extraction 
Impurities and debris that have built up on the skin's surface will be gently vacuumed away to make the skin better able to fully absorb the infusion of Obagi skin care products. 
Infusion 
Some of Obagi's most popular antioxidant and skin rejuvenation products will be applied to the skin to enhance its health and protection while renewing its appearance. 
LED 
The Skintrinsiq™ device will be gently guided along the skin to deliver the benefits of blue and red light therapy. 
Lock 
After the Obagi skin care products have been delivered to the skin, they are "locked" in so they can continue enhancing collagen and elastin, ultimately helping the skin to renew itself long after the treatment has been performed. 
The Skintrinsiq™ treatment process is known to provide many patients with a relaxing experience. The procedure can be performed right here at our office, and is completely non-invasive. No downtime or recovery will be necessary after the Skintrinsiq™ facial treatment. 
How Much Does Skintrinsiq™ Cost? 
The cost of a single Skintrinsiq™ treatment session at our practice starts at approximately $175. The overall price of treatment can vary among patients depending on whether a series of Skintrinsiq™ treatment sessions are being scheduled, if other procedures are included in the customized treatment plan, and other factors. Once your skin has been evaluated during the initial consultation, a member of our aesthetics team will calculate an estimate of the total cost and answer your questions. Our practice accepts a wide range of payment options to make this part of the process as convenient as possible. 
Do you have additional questions about Skintrinsiq™? Please contact Ageless Impressions – Plastic Surgery Institute for more information, or to schedule a consultation.