AQUAGOLD® fine touch™ MicroChanneling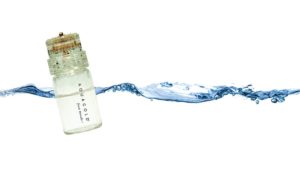 Dr. Mark Richards and our experienced aesthetic enhancement professionals are always looking to expand our selection of non-surgical procedures with the latest techniques designed to provide effective results in a more comfortable treatment process. AQUAGOLD® fine touch™ treatment is an innovative skin needling solution that utilizes advanced "microchanneling" to infuse the skin with anti-aging ingredients that reduce common signs of age to give the skin a healthier and more youthful appearance.
Learn more about AQUAGOLD® fine touch™ treatment below, and don't hesitate to contact our practice for additional information, or to schedule a consultation.
What Are the Benefits of AQUAGOLD® fine touch™ MicroChanneling?
AQUAGOLD® fine touch™ can be an effective treatment option for a broad range of common skin concerns. With the device's innovative microchanneling technique, AQUAGOLD® fine touch™ can improve signs of:
Wrinkles and fine lines
Skin laxity
Large pores
Hyperpigmentation
Mild acne scarring
Dull or dehydrated skin
This treatment is commonly performed on the face; however, it can also be useful for areas such as the neck and décolletage. During your initial consultation, we can evaluate your skin and help you determine whether AQUAGOLD® fine touch™ microchanneling is the right option for your needs.
What Does the AQUAGOLD® fine touch™ Treatment Involve?
AQUAGOLD® fine touch™ treatment involves the application of an innovative skin microchanneling technique. A special device equipped with 20 tiny 24-karat gold-plated needles (each of which are thinner than a human hair) is placed on the areas of skin targeted for rejuvenation. The handheld device typically contains ingredients like hyaluronic acid (the main component of dermal fillers such as Restylane® and JUVÉDERM®) or anti-aging serums like those often found in Vitamins C and B12, BOTOX® Cosmetic-like treatments, and others. The solution is delivered via the small needles into the mid and deep skin layers. The procedure is virtually painless and can cover large areas of the skin in a short period of time.
AQUAGOLD® fine touch™ treatments usually only take about 20 minutes to complete. Since the microchanneling needles are so thin and are coated with gold, the risk of skin irritation or discomfort is minimal. Some mild redness and swelling may be present for 12 to 24 hours following the procedure; however, these effects are temporary, and most patients can resume normal daily routines the next morning without the need for a recovery period.
What Results Can I Expect from AQUAGOLD® fine touch™ MicroChanneling?
While the exact nature of skin rejuvenation results that can be achieved with AQUAGOLD® fine touch™ treatment will depend upon the specific solutions and serums utilized in the procedure, most patients experience skin renewal that is noticeable within just a few days following treatment. Typically within five days patients notice decreased pore size, improvement in pigmentation spots, lessening of wrinkling, a softer feel, and brighter skin tone with more hydration. In addition, AQUAGOLD® fine touch™ treatment usually provides a significant stimulation of the skin's natural collagen, which can continue enhancing the skin long after the initial procedure. While the results are not permanent, many patients can maintain the effects for months. We recommend an AQUAGOLD® treatment quarterly and offer a yearly subscription model that is cost-effective!
How Much Does the AQUAGOLD® fine touch™ Treatment Cost?
The cost of AQUAGOLD® fine touch™ varies among patients depending on the number and size of the areas being treated and the exact mixture of ingredients in the AQUAGOLD® custom solution determined to best treat your problematic skin issues. Currently, the most expensive mixture we offer is $899, which is designed to improve multiple skin appearance issues. A member of our team will produce a total cost estimate of your AQUAGOLD® fine touch™ procedure once your treatment plan is developed during the initial consultation and answer any questions you may have. In addition to the many convenient payment methods we accept at Ageless Impressions ~ Plastic Surgery Institute, our practice also works with a reputable healthcare financing agency that offers affordable payment plans for qualified applicants.
To learn more about AQUAGOLD® fine touch™ treatment, please contact us today!