Breast Augmentation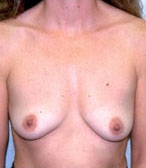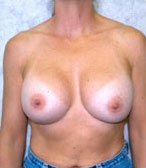 Before
After
View Gallery
Dr. Mark E. Richards is a world-renowned cosmetic surgeon with a practice in Bethesda that serves patients from all over the country. Among the many expert services he offers are breast augmentation with implants and revision surgery for previously performed augmentations. If you are considering either of these procedures, please review the information below and contact our office to ask any questions you may have or to schedule a face-to-face consultation. Those who seek to improve their busts without implants may wish to learn more about breast lift and breast reduction procedures. These procedures, combined with others he offers such as tummy tuck, arm lift, and liposuction, can give you the body you've always dreamed of.
Also On This Page:
About The Procedure
Breast augmentation is perhaps the best-known cosmetic surgery procedure; nevertheless, it is an operation requiring precise care and attention in order to achieve a natural, seamless look with minimal scarring. At Ageless Impressions Plastic Surgery Institute, Dr. Mark E. Richards has performed countless breast augmentation procedures for his patients. This experience allows him to give expert advice and use excellent technique when working with patients who have chosen to get breast implants.
After surgery, Dr. Richards and his staff at the Ageless Impressions Plastic Surgery Institute take every measure available to ensure that their patients recover from their breast augmentation with implants as smoothly as possible. The specific details of your recuperation from the procedure will be influenced in large part by the size and position you choose for your breast implants. In general, though, you will need to take at least a few days off from your work and a week off from any exercise you regularly perform. Dr. Richards will direct you as to the best course of action for your individual case. Swelling and some degree of pain are normal after such major cosmetic surgery, but they will begin to subside less than a week after the breast augmentation, and can be combated via a number of methods that you can discuss with Dr. Richards. In most cases, the bulk of the recovery process can be completed from the comfort of your own home. Please contact us today to discuss your goals and how we can help you fulfill them.
Selecting Your Breast Implants
Dr. Richards will work with you on an individual basis to select the placement (under or over the muscle) and the proper size, shape and feel for your new breast implants, as this decision is crucial to ensuring that you get a positive, satisfying result from your surgery. In guiding you to a conclusion, Dr. Richards will take into account your natural build and figure so that your final shape and appearance will be enhanced but not artificial. Given the array of options and the number of criteria by which they can be selected, you will benefit greatly from working with a highly skilled and experienced cosmetic surgeon like Dr. Richards when choosing your breast implants.
Breast Augmentation Revision Surgery
While cosmetic surgery in general and breast augmentation in particular have boomed in recent years, it is an unavoidable fact that these procedures are not and never will be unfailingly perfect (the ongoing need for revision of facelift procedures attests to this fact). When performing his own first-time breast augmentation procedures, Dr. Mark E. Richards seeks, first and foremost, to minimize the risk of failure by utilizing impeccable surgical and safety practices — and his excellent track record reflects this approach. Still, some unfortunate circumstances are inevitable and unforeseeable, and he has years of experience in providing breast augmentation patients with help in reversing the damage caused by problematic breast implants or improper breast augmentation procedures. Dr. Richards can also help patients who simply want to make adjustments to their breast implants in order to modify their appearances in small but important ways.
Schedule Your Consultation
Whatever your individual circumstances may be, if you are considering breast augmentation revision surgery, please contact Ageless Impressions Plastic Surgery Institute as soon as possible to set up a consultation with Dr. Mark E. Richards. If you are interested in any other procedures that are not listed on this site, please feel free to ask our office for more information on them.