Bethesda Plastic Surgeon Answers Eyelid Surgery FAQs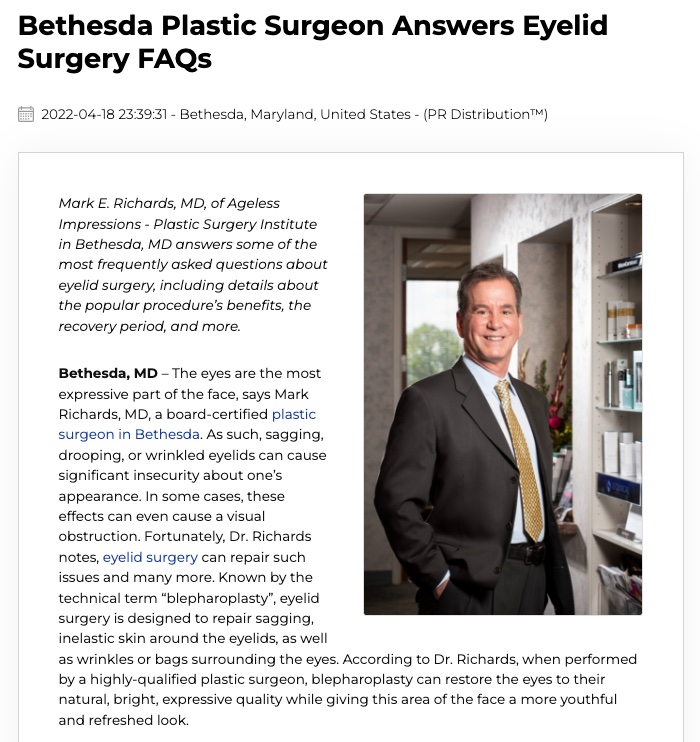 Mark E. Richards, MD, of Ageless Impressions – Plastic Surgery Institute in Bethesda, MD answers some of the most frequently asked questions about eyelid surgery, including details about the popular procedure's benefits, the recovery period, and more.
Bethesda, MD – The eyes are the most expressive part of the face, says Mark Richards, MD, a board-certified plastic surgeon in Bethesda. As such, sagging, drooping, or wrinkled eyelids can cause significant insecurity about one's appearance. In some cases, these effects can even cause a visual obstruction. Fortunately, Dr. Richards notes, eyelid surgery can repair such issues and many more. Known by the technical term "blepharoplasty", eyelid surgery is designed to repair sagging, inelastic skin around the eyelids, as well as wrinkles or bags surrounding the eyes. According to Dr. Richards, when performed by a highly-qualified plastic surgeon, blepharoplasty can restore the eyes to their natural, bright, expressive quality while giving this area of the face a more youthful and refreshed look.
Here are Dr. Richards' answers to some of the most common questions regarding eyelid surgery:
What Are the Benefits of Eyelid Surgery?
The many potential benefits of eyelid surgery include:
Improvement of wrinkles, skin looseness, drooping and overhanging eyelids, under-eye and over-eye fat bags, and more
Improved vision for patients experiencing an obstruction caused by excess, overhanging skin above the eyes
A more rested, youthful appearance around the eyes
Am I a Candidate for Eyelid Surgery?
The typical candidate for blepharoplasty is dissatisfied with the appearance of their eyelids, often feeling that their expression looks "aged, "tired," or "worn out." Additionally, patients may find excessive droopiness of skin over the upper eyelids is harming their ability to see clearly, especially at the end of the day.
Dr. Richards says patients may be advised against blepharoplasty if they suffer from certain medical conditions that may increase the risks of surgery or compromise the healing process. In addition, if a patient has glaucoma or another eye-related disease, they are advised to consult their ophthalmologist before pursuing eyelid surgery. Dr. Richards notes that the best way to determine whether an individual is a good candidate for eyelid surgery is to have their needs evaluated during an initial consultation with a qualified and experienced plastic surgeon.
What Does the Procedure Entail?
Because eyelid surgery can be performed on either the upper eyelids, the lower eyelids, or both, the specifics of the procedure will depend on the patient's needs and goals; however, virtually all variations of this surgery involve tightening and removing excess skin around the eyelids where needed.
Dr. Richards explains that in an upper eyelid surgery, the incision is made in the crease between the eyebrow and lid edge at the location of the existing or desired crease. In a lower blepharoplasty, the incisions are made either inside the eyelid or between the area under the lashes and above the smile lines, depending on the extent of treatment to be performed. Both traditional variations of this surgery typically involve the reduction and recontouring of excess skin, tissue, and fat, as well as the tightening of eyelid muscles when necessary. In certain cases, Dr. Richards will use the UltraPulse® CO2 laser to precisely contour the selected area while barely scarring the skin.
What Does the Recovery Process Entail?
As the anesthesia wears off, patients can expect to feel mild soreness, which can often be managed with over-the-counter pain medications or a cold compress. In addition, some have reported temporary irritation and/or sensitivity to light following the procedure. Patients are advised to sleep with their heads elevated and avoid strenuous activities as they heal, and any side effects should subside within a few weeks.
What Is Laser Skin Resurfacing?
Dr. Richards has produced exceptional results for many patients with the UltraPulse® CO2 laser, which he uses frequently in eyelid surgery to tighten the skin and restore its elasticity. The laser, which has redefined this procedure for many surgeons, can be used to make the incisions inside lower eyelids to remove fat pads without a visible scar while simultaneously sealing blood vessels.
Dr. Richards says the most important first step for patients who are strongly considering eyelid surgery or any other type of aesthetic surgery is to meet with a highly-qualified and experienced plastic surgeon to discuss their goals. He notes that patients should always feel comfortable with their prospective surgeon and confident in their abilities. Patients should feel that their questions are being answered honestly and thoroughly, and the consultation should include a discussion of potential surgical risks or complications.
About Mark Richards, MD
Board-certified plastic surgeon Mark Richards, MD has served as the Plastic Surgery Consultant to the White House. He is a member of several distinguished boards and organizations, including the American Society of Plastic and Reconstructive Surgeons, and he is a former President of both the National Capital Society of Plastic Surgeons and the Montgomery County Medical Society. Dr. Richards has often been recognized in medical journals and panels and is a strong advocate for continuing medical education (CME). He has been named a "Top Doctor" in Bethesda Magazine multiple times, and has also achieved that distinction in U.S. News and World Report. In addition to eyelid surgery, Dr. Richards offers a variety of surgical and non-surgical cosmetic procedures at Ageless Impressions – Plastic Surgery Institute, including facelift, breast augmentation, body contouring surgery, and many others. Dr. Richards is available for interview upon request.
For more information about Dr. Richards and his practice, visit www.drmarkrichards.com and facebook.com/drmarkrichards.
Contact:
Dr. Mark E. Richards
Ageless Impressions – Plastic Surgery Institute
11300 Rockville Pike, Ste. 912
N. Bethesda, MD 20852
(301) 468-3458
Rosemont Media
(800) 491-8623
www.rosemontmedia.com