Plastic Surgeon Mark Richards, MD Named Top Doctor of 2019 in Bethesda Magazine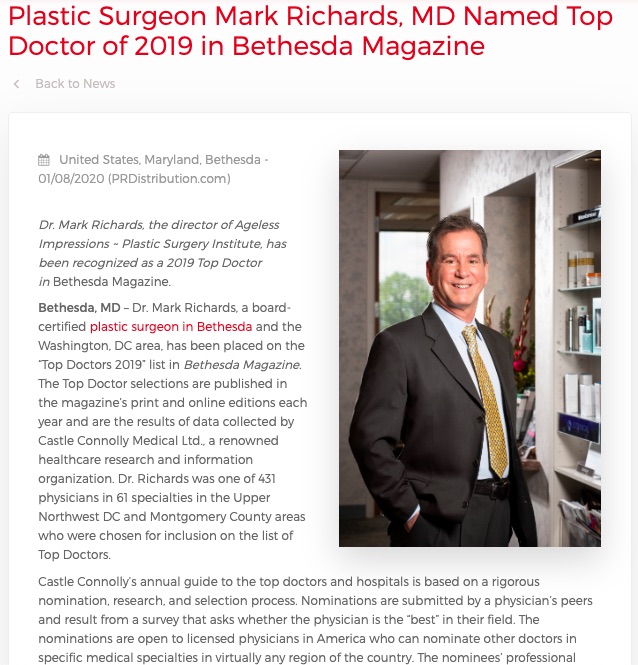 Dr. Mark Richards, the director of Ageless Impressions ~ Plastic Surgery Institute, has been recognized as a 2019 Top Doctor in Bethesda Magazine.
Bethesda, MD – Dr. Mark Richards, a board-certified plastic surgeon in Bethesda and the Washington, DC area, has been placed on the "Top Doctors 2019" list in Bethesda Magazine. The Top Doctor selections are published in the magazine's print and online editions each year and are the results of data collected by Castle Connolly Medical Ltd., a renowned healthcare research and information organization. Dr. Richards was one of 431 physicians in 61 specialties in the Upper Northwest DC and Montgomery County areas who were chosen for inclusion on the list of Top Doctors.
Castle Connolly's annual guide to the top doctors and hospitals is based on a rigorous nomination, research, and selection process. Nominations are submitted by a physician's peers and result from a survey that asks whether the physician is the "best" in their field. The nominations are open to licensed physicians in America who can nominate other doctors in specific medical specialties in virtually any region of the country. The nominees' professional experience and education are then very carefully screened by a physician-led panel of researchers, and the final selection of "Top Doctors" is made. The process has strict rules about how the Top Doctors are nominated and chosen, and physicians cannot pay to be placed on the list.
Dr. Richards says his inclusion in Bethesda Magazine's 2019 Top Doctors list is quite an honor, ultimately reflecting his entire practice's commitment to providing the highest quality of care. As the director of Ageless Impressions ~ Plastic Surgery Institute, Dr. Richards provides Bethesda and surrounding communities with many of the latest surgical and minimally-invasive cosmetic enhancement options available. In addition to surgical breast augmentation, body contouring, and facial rejuvenation procedures, Dr. Richards offers a variety of non-surgical treatment options, including injectable dermal fillers and anti-aging therapies. Dr. Richards says he is thrilled to be recognized in Bethesda's local magazine and looks forward to building upon his nearly three decades of service to the community by continuing his mission to help patients achieve their aesthetic enhancement goals with results that exceed their expectations.
About Mark Richards, MD
Dr. Mark Richards has been certified by the American Board of Plastic Surgery since 1991. After graduating from Yale University and earning his MD from the University of Maryland School of Medicine, he completed seven additional years of specialized instruction in general and plastic surgery. Dr. Richards is a member of the American Society of Plastic and Reconstructive Surgeons and is a past President of the National Capital Society of Plastic Surgeons. In addition to his recognition as a Top Doctor in Bethesda Magazine, Dr. Richards has been named a Top Doctor in U.S. News & World Report and a Top Plastic Surgeon in Washingtonian Magazine. Dr. Richards is available for interview upon request.
For more information about Dr. Richards and his practice, please visit drmarkrichards.com and facebook.com/drmarkrichards.
Contact:
Dr. Mark E. Richards
Ageless Impressions ~ Plastic Surgery Institute
11300 Rockville Pike, Ste. 912
N. Bethesda, MD 20852
(301) 468-3458
Rosemont Media
(858) 200-0044
www.rosemontmedia.com