How Can I Tighten the Skin on My Neck?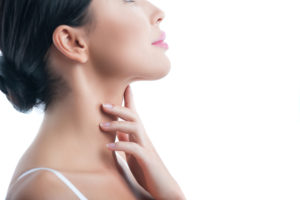 Deep creases and loose skin on the neck are common concerns that can make a person appear older than they are. There are a few ways one can address these issues and achieve a firmer, more youthful look in this area. Our board certified plastic surgeon offers both surgical and non-surgical options. Understanding how each one works and to what degree it can minimize these common signs of aging will help you determine which approach optimizes your result. During your initial consultation, Dr. Mark Richards will discuss all your available options and guide you in the decision-making process.
Many people are understandably interested in non-surgical approaches to neck rejuvenation. If you have mild to moderate skin laxity and wrinkles, Viora Reaction™ may be effective at treating your concerns. Using radiofrequency (RF) technology, this device can increase collagen production and tighten skin at various depths to provide lasting and natural-looking results.
If you have more significant skin laxity, fatty tissue, and loose muscles that cause a banding or rope-like effect (also called a "turkey wattle"), neck lift surgery may be more appropriate. In this procedure, muscles and skin are tightened, excess fat is removed, and loose skin is trimmed using only a few small incisions.
When you talk to Dr. Richards about your goals, he can provide advice as to which method is better for your needs and desired outcome. Talk to us today to learn more.