Where Are Incisions for Eyelid Surgery Placed?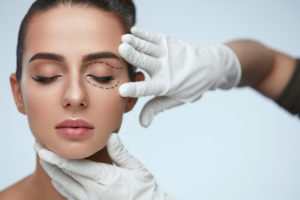 The locations of your incisions during eyelid surgery (blepharoplasty) can vary based on the specific cosmetic concerns the procedure aims to address. During your consultation with Dr. Mark Richards at Ageless Impressions—Plastic Surgery Institute, he will evaluate the condition of your eyelids and ask about your goals to determine a custom surgical plan for achieving optimal results. One significant advantage of choosing Dr. Richards for eyelid surgery is that he prefers to use an aesthetic laser—called the UltraPulse® CO2 laser—to complete the procedure. Laser incisions are generally more precise, and can cause less trauma to the tissue (for faster healing). The laser can also be used to resurface the eyelid skin for further rejuvenation.
If you are considered a good candidate for eyelid surgery, Dr. Richards will walk you through each step of his proposed plan and explain where and how the laser will be used. When blepharoplasty is being performed on the upper eyelids, incisions are made along natural eyelid folds or creases to keep them well-concealed following healing. These incisions allow Dr. Richards to remove excess skin and fat that can obstruct vision and/or cover up the youthful shape and contours of your upper eyelids. If your procedure is targeting the lower eyelids, Dr. Richards can either place the incision just beneath the lower lash line to accomplish extensive enhancement or inside of the lower eyelid, primarily enabling him to access and sculpt the fat deposits. Throughout the procedure, every precaution is taken to achieve aesthetic balance and symmetry for a naturally refreshed look, while incisions are carefully planned, placed, and sutured to deliver the highest-quality results upon healing.
If you are considering eyelid surgery to restore a more youthful appearance, we welcome you to contact Ageless Impressions—Plastic Surgery Institute to schedule a consultation with Dr. Richards to discuss laser eyelid surgery.