Washington, DC Plastic Surgeon Compares Popular Liposuction Techniques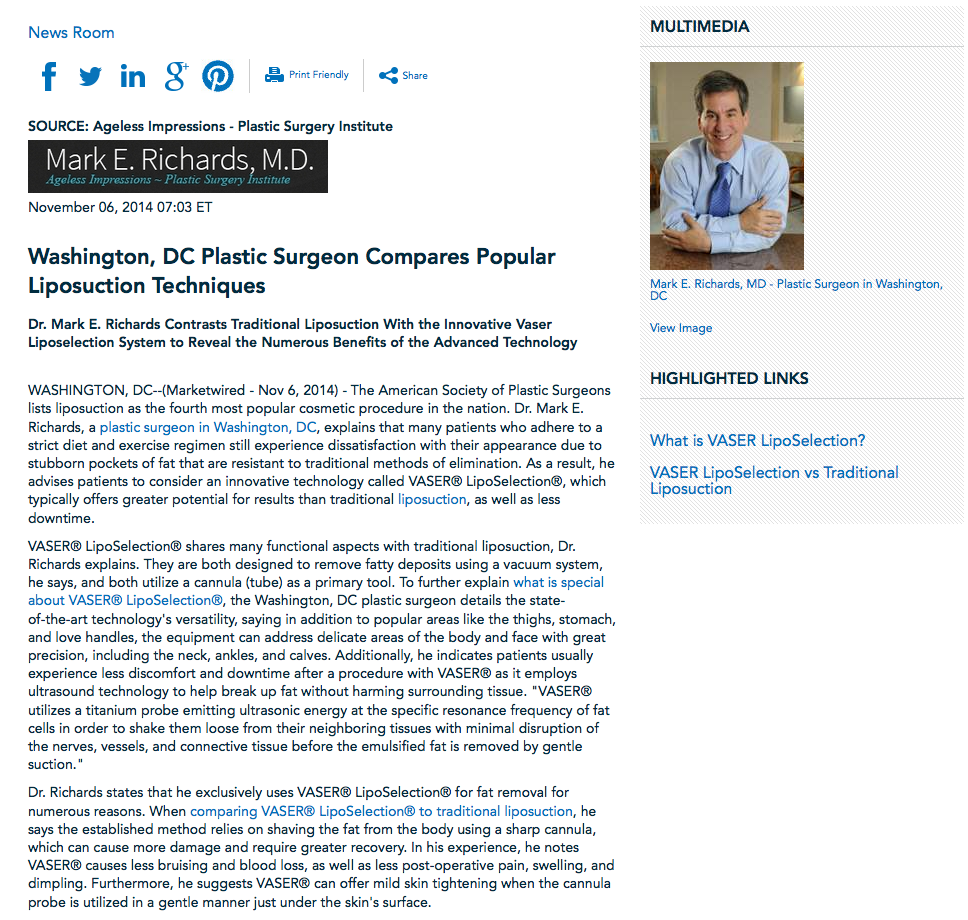 Dr. Mark E. Richards contrasts traditional liposuction with the innovative VASER® LipoSelection® system to reveal the numerous benefits of the advanced technology.
Washington, DC — The American Society of Plastic Surgeons lists liposuction as the fourth most popular cosmetic procedure in the nation. Dr. Mark E. Richards, a plastic surgeon in Washington, DC, explains that many patients who adhere to a strict diet and exercise regimen still experience dissatisfaction with their appearance due to stubborn pockets of fat that are resistant to traditional methods of elimination. As a result, he advises patients to consider an innovative technology called VASER® LipoSelection®, which typically offers greater potential for results than traditional liposuction, as well as less downtime.
VASER® LipoSelection® shares many functional aspects with traditional liposuction, Dr. Richards explains. They are both designed to remove fatty deposits using a vacuum system, he says, and both utilize a cannula (tube) as a primary tool. To further explain what is special about VASER® LipoSelection®, the Washington, DC plastic surgeon details the state-of-the-art technology's versatility, saying in addition to popular areas like the thighs, stomach, and love handles, the equipment can address delicate areas of the body and face with great precision, including the neck, ankles, and calves. Additionally, he indicates patients usually experience less discomfort and downtime after a procedure with VASER® as it employs ultrasound technology to help break up fat without harming surrounding tissue. "VASER® utilizes a titanium probe emitting ultrasonic energy at the specific resonance frequency of fat cells in order to shake them loose from their neighboring tissues with minimal disruption of the nerves, vessels, and connective tissue before the emulsified fat is removed by gentle suction."
Dr. Richards states that he exclusively uses VASER® LipoSelection® for fat removal for numerous reasons. When comparing VASER® LipoSelection® to traditional liposuction, he says the established method relies on shaving the fat from the body using a sharp cannula, which can cause more damage and require greater recovery. In his experience, he notes VASER® causes less bruising and blood loss, as well as less post-operative pain, swelling, and dimpling. Furthermore, he suggests VASER® can offer mild skin tightening when the cannula probe is utilized in a gentle manner just under the skin's surface.
Ultimately, Dr. Richards believes VASER® LipoSelection®, which requires specialized training to operate, offers significantly enhanced results and an improved patient experience. "Though VASER® LipoSelection® takes more time to perform because of the added step of "shaking" the fat cells free of the surrounding tissues with minimal trauma, the results in my practice very clearly show superior results with VASER®."
About Mark E. Richards, MD
Certified by the American Board of Plastic Surgery, Dr. Richards received his undergraduate degree from Yale University before going on to earn his medical degree from the University of Maryland's School of Medicine. He then completed five years of residency training in general surgery and two additional years of training in plastic surgery. Dr. Richards is an active member of several esteemed medical organizations and is the recipient of numerous accolades, including being named a "Top Doctor" by U.S. News & World Report. He is available for interview upon request.
For more information about Dr. Richards and his practice, please visit drmarkrichards.com and facebook.com/drmarkrichards.
Contact:
Dr. Mark E. Richards
Ageless Impressions – Plastic Surgery Institute
11300 Rockville Pike, Ste. 912
N. Bethesda, MD 20852
(301) 468-3458

Rosemont Media
(858) 200-0044
www.rosemontmedia.com