How Does IPL Work?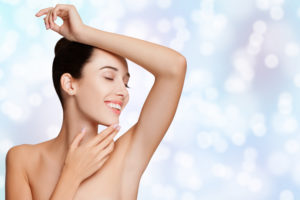 Intense Pulsed Light therapy, commonly referred to as IPL, is one of the more revolutionary advances to come along in the field of aesthetic enhancement. IPL harnesses the power of light energy to provide effective, noticeable skin rejuvenation and improve targeted areas of skin affected by a range of common concerns. In addition, the state-of-the-art IPL system we use at Ageless Impressions ~ Plastic Surgery Institute is capable of removing undesired hair in an array of body areas with extremely long-lasting results.
The ICON™ Aesthetic System is a versatile IPL technology that can be performed for patients of virtually any skin type. Here is how it works for two of its most popular applications at our practice:
Skin Rejuvenation
Non-surgical IPL therapy uses the targeted delivery of light energy to penetrate deep within the skin and promote the growth of healthy skin cells. This process ultimately helps the skin heal and rejuvenate itself from the inside out. IPL treatments can be advantageous for patients with signs of pigmentation, age spots, wrinkles, rosacea, stretch marks, spider veins, melasma, and many other common conditions in specific regions of the skin. The technique is designed to target only the particular areas of concern, without harming surrounding tissues. IPL therapy is often performed on affected areas of the face, neck, or chest, and can even be an ideal treatment for hand rejuvenation or other body regions that patients would like to address.
Learn more about IPL skin treatment.
Hair Removal
The Icon™ Aesthetic System offers a hair removal component that utilizes IPL techniques to reduce undesired hair. This treatment can help patients minimize the inconvenience of daily plucking, shaving, or waxing, allowing them to achieve smoother, hair-free skin with long-term results—perhaps even for a lifetime. The light energy will be delivered into the skin to disrupt the growth of targeted hair follicles, greatly reducing the possibility that they will grow back. Additionally, the treatment process includes a cooling mechanism to ensure patients are as comfortable as possible. IPL therapy for hair removal can be ideal for virtually any region of the body and effective for a range of skin types and tones.
Learn more about IPL for hair removal.
For additional information about IPL therapy, or to schedule a consultation, please contact Dr. Mark Richards today.