What's the Difference Between a Cheek Lift and a Facelift?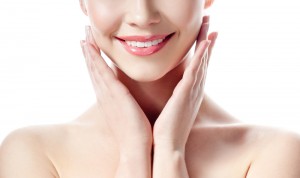 One of the most popular cosmetic procedures available today, facelift surgery can offer dramatic facial rejuvenation for qualified patients, but only in a single section of their face and neck! Therefore, another method may be better suited to your anatomic needs and aesthetic goals: cheek lift surgery.
Though perhaps not as well known, a cheek lift offers a wide variety of benefits impossible to achieve with a facelift alone.  Cheek lifts can be done alone for younger clients with necklines still in good condition, or in combination with a facelift for a more natural and comprehensive total face enhancement. Dr. Mark Richards, our skilled plastic surgeon, can help you determine whether a facelift, cheek lift, or a combination can optimize your results.
A facelift is best to address the bottom third of the face and the neck. Designed to lift the skin and tighten the underlying tissues of the neck and jawline, a facelift does not allow surgical opportunity for surgical changes in the mid-facial region other than to pull the tissues tighter.  As we have seen in the pictures of disastrous looking facelifts on TV and magazines, pulling a mid-face tight often creates an appearance of flatness and distortion.
A cheek lift surgery, on the other hand, specifically addresses the mid-facial area, from the corners of the mouth to the lower eyelids, in many cases can elevate mildly sagging tissues on top of the jawline. The goal of the cheek lift is to bring up the downturned corners of the mouth and restore a youthful curve to the upper cheek while shortening the excessive vertical length of the lower eyelids that combine to present a sad and tired appearance. If you're experiencing the common and early signs of facial aging primarily in your lower eyelid and cheek areas and notice down turned mouth corners, this procedure may be right for you.
If you have additional questions about facelift and cheek lift surgery, or if you wish to schedule a consultation with Dr. Richards, please contact our office today.